D44K/T2-5VLWN-EB
Download
Request Information
Product Info
Item code
D44K/T2-5VLWN-EB
Installation type
ground recessed
Environments
urban landscape, façades and architectural works, wellness, hallway, conference hall, places of worship, residential lighting
Mounting type
with rough-in housing
Body
Corrosion resistant die-cast aluminium body. High impact resistant composite technopolymer housing box. AISI 316 stainless steel frame sandblasted.
Painting
Polyester powder coating, with a pluri-processed against corrosion (passed the exposure of over 1500 hours in a saline mist environment).
Screws
AISI 304 stainless steel screws.
Standard Colour
IS | stainless steel frame sandblasted
Dimensions
D: Total diameter device (mm)
215
Volume piece packed (m³)
0.018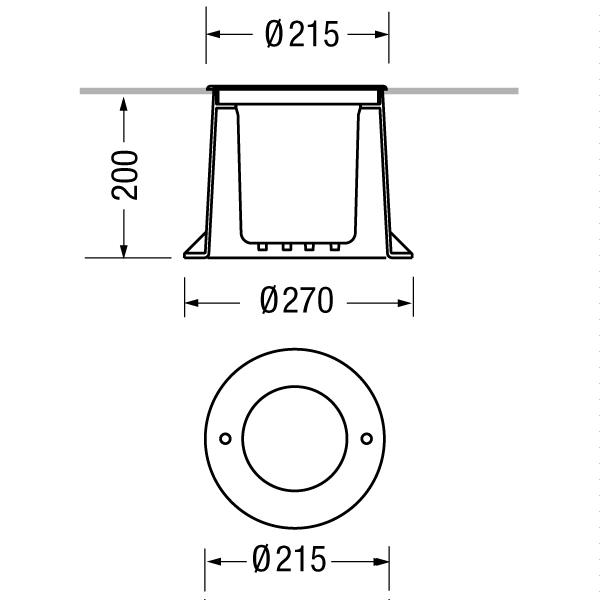 Included Accessories
Rough-in housing
Ground rough-in housing box, high impact resistant composite technopolymer (Code PT0838).
Optical System
Optical System
Tempered safety glass - 10 mm thickness, mechanical and thermal shock resistant.
Sources
Temperature Colour
4000K CRI>80
Electrical
Lifetime
50.000h L80B10 (Ta=25°C)
Line input
Pre-wired and tested with resin sealed watertight H07RN-F cable (for a fast and secure connection to the main power line, use ACS/CR1 connector or similar).
Mounting ballast type
Integral
Photometrics
Optional Accessories
Electrical
ACS/CR1
Fast IP68 connector 1bar (10m-1h) for cable Ø7-12mm - 3x1.5mm.
ACS/CR6
4 ways IP68 wiring box for cable Ø5-14mm - 3x1,5mm.